OUTSTANDING PERFORMANCE IN INAUGURAL TAN RELAYS
BEST RESULTS IN OVER 30 YEARS FOR BOX HILL MEN
MEDALS AND PENANTS FOR FIVE TEAMS
In a sensational conclusion to the 2005 Winter Season, Box Hill came away with outstanding results, probably the best ever from the men's team, on Sunday 18th September at the inaugural Tan Relay competition.
Box Hill men won the Section 1, the Section 4 and the Section 7 relay events, and our fourth team came second in Section 7. The Under 20 men were lying second until the last leg, without a third runner to complete the course. The Under 18 men's team placed second. The Women's Section 2 team placed second, whilst the Section 3 teams placed third, fifth and eleventh. The Under 18 women's team placed first.
This was an outstanding team effort and one which will be remembered for a long time. Congratulations to all athletes who made themselves available and performed so well. One of the striking features of the day's performances was the evenness of the athletes' performances, with many athletes showing that they will challenge for a place in our top teams over the next few years.
Juniors
The Tan Relays, held around the Tan track, were an innovation this year, one which our club supported and would wish to see continue. It was a relief to find that weather conditions were hugely improved over the wintry blast of the preceding day, and the Women's and Junior Men's races commenced in ideal sunny conditions starting from near the Swan Street Bridge at around 9.00 a.m. Our Under 18 Men's and Under 18 Women's teams were prominent in their respective races, with Hayley Tomlinson getting her Under 18 Women's team off to a winning start. Coreena Cleeland and Harriet Hodgkinson both ran creditably, and both Hayley and Harriet recorded times which were impressive by open age standards. It is very pleasing to see success occurring with our junior teams.
The Under 20 Men's team got off to a strong start through Iain Reitman, with Michael Bourne dusting off the cobwebs, running second. Unfortunately, whilst holding second place, the team's third runner did not materialize.
The Under 18 Men's team, comprised of Navin Arunasalam, Dom Aloisio and Ruben Arunasalam ran solidly and won the silver medal, just 39 seconds behind the Ballarat team and 83 seconds ahead of Geelong, which placed third. Navin ran particularly well to record the team's fastest time, but all our Under 18 athletes are showing great potential and we have high hopes of continued solid improvement.
Women
We had our best senior Women's representation for the year with four teams finishing. Our Division 2 team placed second with even performances from Jess de Bruin (12th fastest female leg), Fiona Turner and Rachel Johnson all contributing to the success of the team's performance. Rachel, in particular, recorded one of her best performances for a while and ran the quickest female leg from a Box Hill woman. She was the 10th fastest female on the day.
Our first Division 3 team placed third, with Amanda Harper running an excellent final leg, after earlier athletes, Joc Keage and Kate Wall did their best. Not too far behind was our second Division 3 team with Megan Sloane running a quick first leg, followed by Kylie King and Kerry Putt.
Our third Division 3 team placed 11th, represented by Inge Magher, Kin Larkin and Gemma Duhig.
Men
Then it was the turn of the Senior Men's teams, and we had four teams starting and finishing, which was extremely pleasing. Even better was the result, with Box Hill winning every Division in which we entered teams. Congratulations to all the athletes who made themselves available and who performed so well.
The Men's Division 1 team was given an enormous start by Chris Hamer, who not only recorded the fastest time by any Box Hill athlete, but changed over in second place in Division 1 a mere 9 seconds behind Liam Adams, Essendon, who led the Division 1 field at the conclusion of the first leg. Chris recorded the fifth fastest time of the day, an excellent effort. This great start gave us every chance of a top performance, particularly as Geelong and Glen Huntly, whom we expected to be the strongest competitors on the day, were well back in the field. Eureka was the leading team at this stage of the race, with their first athlete very prominent. Doncaster was also well placed in Division 2.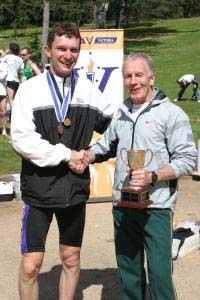 John Meagher was our second runner in Division 1, and he performed up to the high standard he has exhibited all season, overtaking his Essendon opponent and propelling Box Hill to be the first placed Division 1 team, ahead of APS, Knox, Geelong, Glen Huntly and other Division 1 teams, but behind Eureka. Collis Birmingham, recorded the fastest time of the day, 10 minutes 58 seconds, in the second leg.
Steve Kelly ran the third leg, running creditably and just held off a surge from David McNeill from ASPS, meaning our Division 1 team held a one second advantage. Matt Coloe lifted this lead to a 66 second advantage over APS with Geelong and Glen Huntly a further 5 seconds behind, having made up some leeway in the third and fourth legs. Matt's time was a top 15 time for the day.
Adrian Vincent maintained the lead and handed over 62 seconds in advance of Glen Huntly in second place with Geelong a further 24 seconds behind. APS began to fade out of contention. Andrew White recorded Box Hill's second fastest lap time as he anchored our Division 1 team to an impressive 85 second victory over Geelong with Glen Huntly in third position. Andrew recorded the 13th fastest time of the day.
Results were just as good in Division 4 where Box Hill compiled an unbeatable lead through Simon Watson who recorded an outstanding time in the first leg (23rd fastest on the day) and was ably supported by Steve Dineen, Alan Craigie, returning from injury, Davis Jiminez and Daniel Clark, who ran an impressive final leg, to anchor the team to victory.
We entered two Division 7 teams and both teams were to the forefront during the race, with the teams swapping leading positions during the race. In the winning team were Kevin Craigie, Chris Wall, Chris O'Connor, with a standout time, and Tim Heron who broke 13 minutes for his leg. The second team placed second and was represented by Graham Craigie, Sam Dipnall, Patrick Kelly who recorded a fast leg time, and David Ayers.
Our final Men's team placing for the Winter season was 2nd, one of our best recent performance, just 11 points behind Glen Huntly. We improved greatly during the 2005 season and this augurs extremely well for the future. The Women's Section 2 team were premiers and should be promoted to Division 1 next year. Our Division 4 Men's team won every competition when we had a full team. The implication here is that we need every runner to represent Box Hill every week, and by doing this our performances will be strengthened and improved.
Much of the credit for the day's performance belongs to Chris O'Connor who did a fantastic job liaising with athletes and their coaches to ensure their availability. Well done Chris! You deserve to savour the great successes of the day. Thanks also to Doug Bourne and Julie Milner for officiating for the club as recorders and timekeepers and to Ian Sloane, Adam Pepper and Gemma Duhig who also assisted in recording times.
Results – Women
Division 2 Times


Jess de Bruin   14:18
Fiona Turner    14:46
Rachel Johnson  14:12



Division 2 Placings


1. Athletics Essendon 42:03
2. Box Hill           43:16
3. Coburg             46:17



Division 3 Times


Joc Keage       16:37
Kate Wall       16:06
Amanda Harper   15:27

Megan Sloane    15:53
Kylie King      16:49
Kerry Putt      17:04

Inge Magher     18:45
Kim Larkin      19:00
Gemma Duhig     18:27
 


Division 3 Placings


1. SSH                  45:25
2. Athletics Essendon   47:26
3. Box Hill             48:11
5. Box Hill 2           49:46
11.Box Hill 3           56:12



Under 18 Times


Hayley Tomlinson        14:45
Coreena Cleeland        16:00
Harriet Hodgkinson      15:24



Under 18 Placings


1. Box Hill             46:09
2. Western Athletics    48:00
3. KStB                 49:25
Division 1 Individual Performances
Leg    Runner       Lap time   Pos   Leader's time  BH time
1    Chris Hamer     11:23      2       11:14        11:23
2    John Meagher    11:53      1       23:16        23:16
3    Steve Kelly     12:02      1       35:18        35:18
4    Matt Coloe      11:45      1       47:03        47:03
5    Adrian Vincent  12:15      1       59:18        59:18
6    Andrew White    11:37      1       70:55        70:55

Division 1 Performance Running Sheet
   Leg 1           Leg 2           Leg 3           Leg 4           Leg 5           Leg 6	
Ess    11:14    BH     23:16    BH     35:18    BH     47:03    BH     59:18    BH     70:55
BH     11:23    M Uni  23:31    APS    35:19    APS    48:09    GH     60:20    Geel   72:20
M Uni  11:32    Knox   23:54    M Uni  35:58    Geel   48:14    Geel   60:44    GH     72:37
Knox   11:36    APS    24:02    Geel   36:11    GH     48:14    APS    61:08    APS    73:19
APS    12:01    GH     24:05    GH     36:45    M Uni  48:48    M Uni  61:44    Knox   74:09
GH     12:02    Ess    24:14    Knox   36:49    Knox   49:10    Knox   61:54    M Uni  74:26

Division 1 Placings
1. Box Hill     70:55
2. Geelong      72:20
3. Glen Huntly  72:37



Leading Times


Collis Birmingham    Eureka       10:58
Liam Adams Athletics Essendon     11:14
David McNeill        APS          11:17



Division 4 Times


Simon Watson    11:56
Steve Dineen    12:18
Alan Craigie    12:43
David Jiminez   13:27
Daniel Clark    12:12



Division 4 Placings


1. Box Hill       62:36
2. Doncaster      63:51
3. Melbourne Uni  66:04



Division 7 Times


Kevin Craigie   13:05
Chris Wall      13:52
Chris O'Connor  12:37
Tim Heron       12:56
 
Graham Craigie  13:15
Sam Dipnall     13:15
Patrick Kelly   12:55
David Ayers     14:25



Division 7 Placings


1. Box Hill     52:30
2. Box Hill #2  53:50
3. Sandringham  57:10



Under 20 Times


Iain Reitman    12:51
Michael Bourne  13:43



Under 18 Times


Navin Arunasalam  12:51
Dom Aloisio       13:35
Ruben Arunasalam  13:08



Under 18 Placings


Ballarat Region   38:55
Box Hill          39:34
Geelong Region    40:57