October 1, 2015
SEASON LAUNCH ON TUESDAY – FREE PIZZA!
The Club will be holding a season launch at the club rooms on the evening of Tuesday, October 6, from 7pm. This is great opportunity to meet the club coaches, committee members and fellow athletes and pick up information about the upcoming track and field season. You can purchase new uniforms and if you do not have your registration bib numbers for this season, you can collect them at the season launch.
Pizza and soft drink provided.
We encourage all members (especially new members) to attend.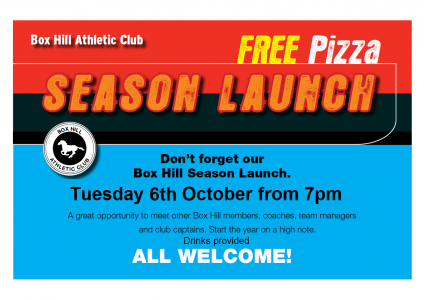 TRACK AND FIELD SHIELD COMPETITION STARTS ON SATURDAY WEEK
The 2015/16 track and field season Shield competition starts on Saturday week!
Round 1 of shield competition will be held at Nunawading track (Bill Sewart Reserve, off Burwood Hwy, East Burwood).
Track competition starts at 1:30pm (sprint hurdles and steeple), followed by the walk, 100m, 1500m, 4x100m relay (at 4:00pm), followed by the 400m. Field events (javelin, discus, long jump, pole vault) will run in different divisions from 1:30pm to 4:45pm.
Shield Calendar
October 10, Saturday, Round 1, Nunawading
October 24, Saturday, Round 2, Yarra Ranges (Mt. Evelyn)
October 31, Saturday, Round 3, Casey Fields (zone vs zone)
November 14, Saturday, Round 4, Nunawading
November 22, Sunday, Round 5, Doncaster
December 10, Thursday, Round 6, Nunawading
December 17, Saturday, Round 7, Nunawading
January 9, Saturday, Round 8, Nunawading (zone vs zone)
January 16, Saturday, Round 9, Lakeside Stadium (zone vs zone)
January 30, Saturday, Round 10, Nunawading
February 6, Saturday, Shield Final, Lakeside Stadium
YOUR HELP IS NEEDED
There are a number of ways that you can help the Club and help the summer competition run smoothly. All help no matter how great or small is highly appreciated.
We need volunteers to help out on shield competition days. This may involve helping to record results or measuring throws or raking a sandpit. If you can help please let us know and we will organise a roster. Even if you can just help once for a few hours, let us know.
We need team managers! This is not an onerous task, but it does mean being present for the whole afternoon on most weeks of shield competition. Please let us know if you can help.
The white zone needs a scorer. This is a paid position. ($80 for each round of shield). If you are interested we can send you the job description.
TRIVIA NIGHT – BOOK NOW!
The Club's biggest social and fund raising event of the year will be held on Saturday, October 17, from 7:00pm at the Chatham Primary School hall. We encourage all members to bring their friends and family to this fun night. You can book a table of 6 – 8 people of just come on your own and we will place you with a team. Book via return email or contact Grace Brown at gracelowdenbrown@gmail.com
We also need auction items for the silent auction, if you can donate anything, big or small, please let us know.
WELCOME TO NEW MEMBERS FROM RUYTON
Box Hill is very pleased to welcome new members from Ruyton. As the Ruyton Athletic Club will no longer be competing in Athletics Victoria competition its members have joined forces with Box Hill. We hope that all new members have a successful and enjoyable time competing with Box Hill.
STEVE RUNS 4TH IN ADELAIDE
Congratulations to Steve Dinneen who ran 4th in a strong field of 30,000 runners in the Adelaide City to Bay fun run. Steve ran the 12km in 35:28 to finish behind Liam Adams, Ruben Kosgei and David McNeil, but ahead of many classy runners including Martin Dent and James Niperness.